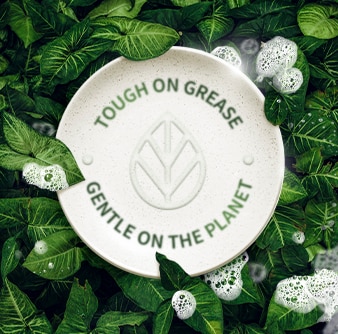 Palmolive® Ultra Pure + Clear dish soap cuts grease from your dirty dishes with a hypoallergenic formula made with no unnecessary ingredients.
Pure + Clear is made with:
No dyes, parabens, or phosphates.

100% biodegradable cleaning ingredients.

Frequently Asked Questions
Palmolive® Ultra Pure + Clear

What is liquid dish soap?
Dish soaps are formulated to facilitate the removal of greasy baked-on food from dishes (glasses, plates, utensils, pots, etc.). They also suspend (emulsify) the grease in the wash water to facilitate rinsing.
Is Palmolive® Ultra Biodegradable?
Palmolive® Ultra contains 100% Biodegradable Cleaning Ingredients. Our Palmolive® Powerpacs contain a 99.9% biodegradable formula. Our Palmolive® Spray Away contains a 96% Biodegradable formula.
Does Palmolive® Ultra contain Parabens or Phosphates?
Palmolive® Ultra is formulated without Parabens and Phosphates.
Does Palmolive® Ultra use post-consumer recycled plastic?
Starting in 2021, our portfolio now uses 100% Post-Consumer Recycled plastic on the following sizes: 9.7 oz, 18 oz, 20 oz, 32.5 oz, and 46 oz. Palmolive® PowerPacs packaging is made with 25% recycled material.
Where can I learn more about your Ingredients?
We are SmartLabel enabled and feature additional ingredient and sustainability information for all of our formulas. You can visit the SmartLabel page for each formula to learn more about our ingredients and their purpose.
Discover more Palmolive® products